Acquarela: Store That Will Steal Your Heart!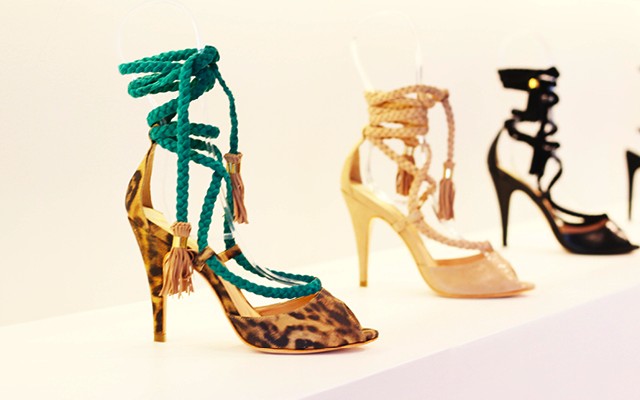 ATTENTION PLEASE: This following article might bring some trauma and anxiety, if you are a shoe addict it will make you run and try them on ASAP. (You have been warned!)
There is a new store in town that will steal your heart. One saturday afternoon I went to Acquarela Shop DR, a new partnership with the famous Brazilian chain store, they're the representatives of Luiza Barcelos and Schutz, both Brazilians shoe brands.
Marielle García, the owner, told me that one night she was goggle-ing some pairs of shoes and discovered these brands very unknown in the country. After meeting their representatives and learn more about the history behind the brands she decided it was time to share the secret and make her dream come true: open her own shoe store.
While I sipped a glass of cava, I started walking around the store. Its interior is very minimalist and sophisticated; white walls that illuminate the whole space, an amazing detail of red roses hanging from the ceiling, a black contrasting chandelier and a lot of cube displays with mirrors reflecting the exquisite pieces of shoes.
It was imposible to choose only one pair... however, do you think it is to early to start my Christmas letter to Santa Claus? (haha!)
Enjoy the pictures!
Special thanks to all the crew behind this brand. info@acquarelashop.com T:809-732-6868 INSTAGRAM @acquarelastore Victor Garrido Puello #21, esq. Manuel de Jesus Troncoso Piantini, Sto.Dgo.
Save